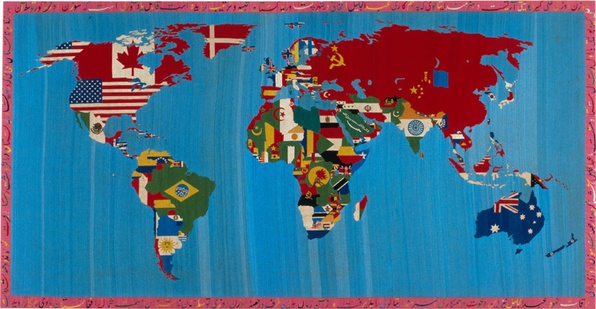 In the spring of 2000 Peter Simon gave art consultant Thomas Dane a few preliminary guidelines to delineate the characteristics of a new Monsoon collection – these were concepts of cultural exchange and diversity through travel and commerce.
More so than following the visual identity and spirit of Monsoon-The-Brand, this was intended as a clear breakaway from the overwhelmingly British and rather predictable art of many company collections in London.
In their early talks, Dane and Simon decided to identify some initial 'landmark' artworks that would help form the direction of the collection. The idea was to look further a field than the traditional art centres and be representative of the burgeoning contemporary art scenes of Central and South America, Africa and Asia.
Border crossing and intercontinental commerce had of course been an early 'raison-d'être' for Monsoon and a trademark of Peter Simon's life; from his birthplace in Sri Lanka through to India, Afghanistan and the Portobello Road. To add to that, there was by 2000 a growing realization that London had become the most cosmopolitan city in the world and Simon felt strongly that the Hamilton building and the contemporary art collection it was destined to host should somehow evoke this diversity. Simon also wanted the art to be recent and with an international profile – ideally the artists would be versed in different cultures and embrace or reflect on the paradoxes of a contemporary world in which vernacular crafts and local identities have to quickly re-adapt.
In that respect, the first acquisition of the new Monsoon collection, in June 2000, has to be its most symbolic and, in many ways, could not have been more ideal: a 2.5 ton truck by Korean artist Kimsooja, overloaded with a pile of brightly-coloured silk 'bottaris' – the Korean bedcovers traditionally used for carrying cloth and household objects. Bringing the truck, which had been driven by the artist throughout Asia and parts of North and Latin America, to Paddington, where it would welcome the visitors to the Monsoon Building, turned out to be an exciting metaphor of commerce and the very specific trade of Monsoon.
Although he had died in 1994 at the age 54, Italian conceptualist Alighiero Boetti looked another obvious cornerstone of the collection - even a 'father figure' – especially with his emblematic Mappe, or Maps, which were woven in Afghanistan and, after the Russian invasion of 1979, in neighboring Pakistan. Boetti, who considered his work as a collective effort, with the artist as a referential person, had left Turin for Afghanistan in 1971 to collaborate with local weavers and produce embroidered tapestries. The Maps originated from his 1969 Planisfero Politico in which Boetti drew directly onto an ordinary map of the world, filling the territory of each state with its corresponding flag. The weavers were then left free to elaborate the background and colour arrangements.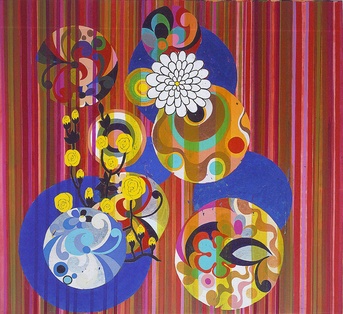 A third and early, personal favourite of Simon was Brazilian painter Beatriz Milhazes, initially through her exuberantly musical and hedonistic Tempo de Verao, (Summertime). In the case of Milhazes, it is her finely crafted paintings that drift between such diverse influences as Pucci, tropical baroque, Mondrian and Vinicius de Moraes. The patchwork of lush, psychedelic motifs strangely makes sense – as if they were a pictorial transposition of Milhazes' city of Rio, where nature and modernism intermingles. Her undertaking - bringing harmony to an initial cacophony of influences and languages – is challenging yet it is very fitting to the beginning of a new collection as, in her own words, "nothing is clear until the end".