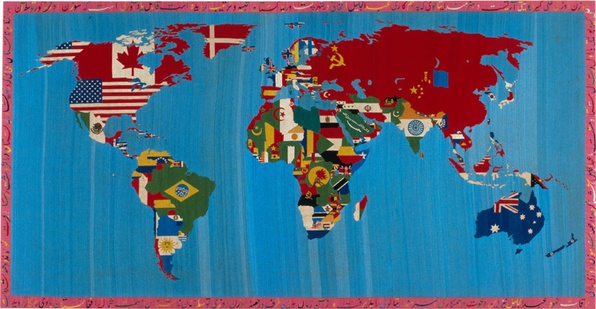 Alighiero e Boetti's Map of the World (1988) describes a world that has already changed beyond recognition in its political geography and in the social, cultural and economic balance between nations and continents. Made by traditional weavers in an Afghanistan then under Russian domination, this emblematic work captures a 'world order' which had been relatively stable for more than forty years in an uneasy truce between the super powers.  Now we can see the late eighties as a moment of incipient and then accelerating change as physical and metaphorical barriers were torn down and the information revolution made us all participants, sometime unwilling participants, in events across the globe.
 In 1989 Jean Hubert-Martin's exhibition Les Magicians de la Terre in Paris, later followed by the example of Catherine David at the Documenta exhibition in Kassel in 1997, obliged the contemporary art world to take off the blinkers that had prevented many curators and almost all collectors and museums from looking beyond the borders of North West Europe and North America. There are always exceptions and in this country Guy Brett, as a critic, and David Elliott, as Director of the Museum of Modern Art in Oxford, had consistently looked to new fields, particularly Latin America and Africa.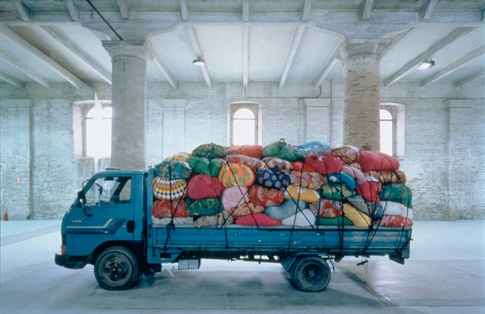 The decision by Peter Simon to make art from the developing world the focus of the Monsoon Collection was a radical move, even in 2000. It was a decision without precedent in the world of corporate collections, where the convention has been to acquire for purposes of decoration, investment and reinforcement of image. Monsoon may be a company that has its roots in cultural exchange, but the decision to acquire works by then relatively unrecognised artists such as Alighiero e Boetti, Beatriz Milhazes and Kim Sooja was bold. These three acquisitions were chosen symbols of intent: major works by artists dealing with the position of the artist in a rapidly changing society where traditional skills are being lost and where economic migrations can obliterate culture and identities that have survived for centuries. Subsequent purchases drew attention to the social and cultural pressures generated by the rapid growth of cities such as Mexico and Sao Paulo. More recently the acquisitions of photographs have explored different to approaches to the idea of documentary. With the acquisition of Chris Ofili's Afro Apparition and African American Flag by David Hammons, the wheel has turned full circle through the inclusion of works by artists whose own background or experience of non-Western cultures informs their examination of traditional stereotypes and conventions.
The Monsoon Collection remains dynamic. In an astonishingly short period its focus and concerns have come to be shared by institutions and collectors across the world. The originality of the initiative is nevertheless undiminished and we can therefore expect further developments as the company moves to new quarters in West London.