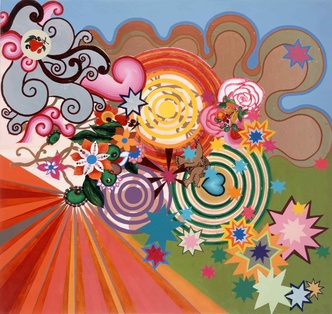 In 1995 at a laid back dinner in Notting Hill someone first asked me 'what's your opinion on contemporary art?' I was blank and didn't have an opinion or any knowledge about the contemporary art scene, apart from perhaps vague inklings about what the YBAs had been up to through stories in the national press. The person who had asked me worked at the Serpentine Gallery and subsequently invited me to see their current show Brit Art Today. I went and decided not to look at any names but instead just to examine the art and to see what I was drawn to. There were two that really caught my eye: Francis Bacon, who I had heard of but knew little about, and Howard Hodgkin who was completely new to me and who I assumed was a young artist from one of the London art schools.

Sometime later I was in Kilifi in Kenya staying with the photographer Mirella Ricciardi where I met the then art dealer and soon to be chairman of Sotheby's Henry Wyndham. He suggested some books to read to get a wider sense of what which artists I might be interested in starting to collect. I remember leafing through them, putting post-it notes on pages of artists I liked. A theme soon emerged; I was particularly drawn to the work of a group of artists active in St. Ives during the early 20th Century including Barbara Hepworth, Peter Lanyon, Ben Nicholson, Winifred Nicholson, Alfred Wallis and Christopher Wood. It was a very British group of artists and I was particularly drawn to their use of colour and composition.

For years I had been involved in the business of converting 'images' from paper to fabric in the making of women's clothes. From the earliest days of using block-printed saris to commissioning prints from textile artists, I used to sit with the Monsoon designers, looking at portfolio after portfolio in order to select the designs to sample up. In retrospect I think this honed my ability to recognise good composition and use of colour and it's a skill I continue to use when buying art.

I can't remember how I started buying art seriously but on a weekend around that time, a mutual friend suggested I meet art dealer Ivor Braka. I must have given him my number because by Monday morning Ivor had left me three phone messages, keen to meet up and further discuss my growing interest in starting to build a collection of modern and contemporary art. At first I held tightly onto my wallet. Soon though, beneath his Iggy Pop-star demeanour, I found in Ivor a serious, passionate and straightforward person with a wealth of art knowledge and a superb eye. With his guidance and that of gallerist Thomas Dane, I started collecting in earnest, looking at both those British artists I had been drawn to and more contemporary artists who were fresh on the scene.
Following Monsoon's move to our new headquarters in Paddington in 2000 I was keen to introduce my new love of art and collecting to the building, but felt that perhaps a collection with a slightly different focus was necessary for these new environs. Following a meeting with Nicholas Serota and Thomas, I embarked on their suggestion of creating an international collection contemporary art, with a focus on artists working in new and developing cultural centres - places such as Latin America, Africa and Asia. These areas of the world were familiar to me from my travels, and they also reflected Monsoon Accessorize's global reach and research into vernacular craft techniques across the globe.

The very first piece that entered the Monsoon Art Collection was Kimsooja's wonderful Bottari Truck, fresh from its exhibition in the Venice Biennale and the exhibition Cities on the Move. The truck was driven to the new headquarters and parked in our foyer. For me the appeal of this piece - a real Korean truck loaded with bundles of brightly coloured fabrics - lay in the way in which it reminded me of the bundles of hand block printed fabrics that used to come on three-wheelers to the factory from the printing villages around Jaipur, ready to be made up into the Monsoon designers' collections.

For me, all the works in the collection have a story behind their purchase and I enjoy my own personal relationship with these works. The Collection is funded privately, not by the company, so any risks with investments I take are my own. I enjoy being able to share the collection with colleagues and visitors to the building. I hope on their way through the Yellow Building, whether passing a Jeff Koons or Andy Warhol, a Beatriz Milhazes or an Alighiero Boetti, there comes a moment of inspiration which enlightens the daily life at Monsoon Accessorize.